If done correctly anchor text and reciprocal links can have a tremendous positive impact on SEO. These two concepts work together to provide valuable link value to your website and have the potential to increase your website ranking.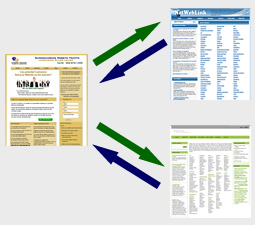 In our last blog entry "Creating Infographics to Build Links and Increase SEO" we briefly touched on the topic of Anchor text. The anchor text is the hyperlink or clickable text that is found on a web page. Using accurate anchor text is essential for good Search Engine Optimization and when used appropriately it can drastically boost your rankings in the search engines. The anchor text provides descriptive and useful information for the page that it links with.
The anchor text enables websites to use cleaner looking text rather than displaying an unpleasant and distracting hyperlink. For example a hyperlink for Internet Beacon.com would look like <a href="http://www.internetbeacon.com"> Internet Beacon</a> however by using anchor text it would present as Internet Beacon on the page.
The most common mistake when dealing with anchor text is using the dreaded "Click Here" anchor text. Click here not only causes you to miss out on the possible SEO benefits it also neglects to describe the content to the page visitors and the search engine crawl bots. At one time Anchor text was heavily manipulated and was referred to as Google Bombing. Google Bombing used large amounts of anchor text to influence the rank of a link that directed visitors to unrelated content. For example during the 2004 United States presidential election the anchor text of "miserable failure" was linked to the George W. Bush's White House biography so many times that when users searched for the terms miserable failure the link to the biography appeared in Google's search results. However in January, 2007, Google created a new algorithm which reduced the impact of Google bombs but none the less anchor text still remains important… Read the rest