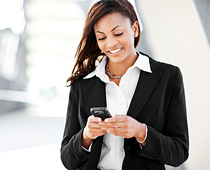 The number of users who access the Internet using their mobile device continues to grow each and every day. Approximately more than half of the people who use the Internet access it regularly from a mobile device. As new mobile devices are introduced and as mobile web browsers advance mobile web browsing further solidifies itself as a permanent fixture in our everyday lives. When considering how many or your potential customers are accessing the Internet via their mobile phone you should be asking yourself, is your website mobile friendly?
The advances of mobile devices has made tremendous progress however many sites that are not optimized for the mobile web often get lost in translation and present a less than desirable user experience. Due to the quick advancements and development it is probably only a matter of time till mobile browsing can offer an experience equal to that of regular Internet browsing. So, another important question to consider would be is the benefit of mobile optimizing worth the effort or would it make more sense to wait a year or two until mobile browsing possess the same technology and capabilities of traditional Internet browsing?
Most of the time if a user is accessing your website from a mobile device there is a higher urgency to make a purchase or perform a critical action such as finding directions to your brick and mortar store or acquire some kind of contact or customer support. I think it is clear that depending on the type of business and the needs of the customers it is probably worth the effort or at the very least wouldn't hurt to make your website a mobile companion. The following are suggestions to assist you in making your website more compatible with the mobile web environment as opposed to creating an additional website solely for mobile users.
Test your sites mobile compatibility

Before you make any adjustments to your site you should first test it and see if any changes are necessary. To do this you can navigate to your site on any mobile device or download mobile