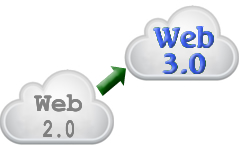 Hello there! Welcome to the Internet Beacon's awesome weblog. If you're here for SEO tips for small businesses, you've come to the right place.
Ah, the World Wide Web. It's come a long way from AOL and Geocities blogs with looping MIDI music. We have social networking sites that keep us in touch with friends, family, coworkers, and even complete strangers. We can post what music we're listening to and others can stream the same song. Now, as the Web has grown, a sort of version number has been attached to it.
At first, there was the World Wide Web, or Web 1.0. It consisted of a lot of static web pages serving identical information to all visitors. There was very little customization and user interaction.
Now, after a while, developers started making sites that would display dynamic content. Once we reached a point where there could live interaction with the Web, Web 2.0 was born.
Well, there is a new kid in town named Web 3.0. Now, before you get in an uproar about how much you love Web 2.0, let me explain a little about it. Web 3.0 is described as a persistent experience online that removes the borders between the Web and us by obviating the need to sit at a terminal or handheld device. Devices that provide things like Augmented Reality, adding computer generated data as an overlay to the real world, will be part of this. Imagine seeing directions through your glasses instead of a GPS. Devices that interact with real time data, say, where you're eating lunch at the moment, will also be a part.
Web 3.0 is still in its infancy and should by no means be taken as an apocalyptic end to life as we know it. We don't have to worry about being left in the dust of society unless we "plug in". That sort of dystopian future is best left to Science Fiction.
-Josh