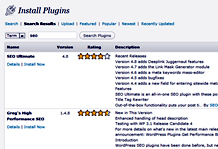 WordPress is a web-based software that allows users to create and manage websites and blogs.  The open source structure enables people from around the world to contribute to and maintain their WordPress website whether on WordPress' web server or installed on their own web server.  Although WordPress initially began as a blog tool it has developed into something so much more.  By utilizing plug-ins, widgets, and themes users have the opportunity to fully customize their experience. A plug-in is software that can be added to existing software, like WordPress, which adds a new specific capability to the larger software application. For a full list of WordPress product features visit WordPress Product Features.
There are over thirteen thousand plug-ins available for the WordPress software making it extremely easy to tailor it to your specific uses.  The following are some useful SEO plug-ins that the WordPress open source community has provided.
All-in-one SEO plug-ins such as WordPress SEO and SEO Scribe are designed to perform overall multiple SEO tasks that include optimizing content faster, providing great keywords, maintaining reader engagement, constructing quality links and increasing traffic! Most of the all in one SEO plug-ins operate similarly and perform similar functions.  The following are among the most utilized all-in-one SEO WordPress plug-ins:
Below is a list of related, individual plug-ins that can be helpful in improving your blog or website's Search Engine Optimization and enhancing Social Media Marketing:
AddToAny Share/Bookmark/Email:
AddToAny creates a customizable panel that showcases social networking sites.  It makes it extremely easy and convenient for a visitor to submit to any social networking sites.  The share menu organizes the social media sites according to most visited.
SEO Friendly Images:
The SEO Friendly Images WordPress plug-in automatically adds the "ALT" and "title" attributes to any images on your