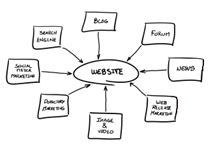 Hey, Josh here from the InternetBeacon.
More info on SEO, check out our SEO Answers page, our SEO Glossary, and our blog posts on SEO.
Today we examine one of the classic conundrums when it comes to web design: using advertising to grow and earn from you website while not turning your page into a seizure-inducing catastrophe. Fear not, this can be done. In fact, lots of people have done this already. Here are a few tips.
Carefully Examine Potential Ads
Unless you really didn't look at the agreement before posting ads on your site, you should have had a chance to look at some ads that the company runs. If they are all "Click Here! You're a Winner!" ads with strobe effects and smiley faces, you will probably want to stay away from them. Be cautious, as your ads will affect how people perceive your site.
Take it Slow
Placing advertisements on your site is not an  "all or nothing" deal. You can start slowly and examine how different types of ads work. Google, for example, offers very simple, low-impact ads that will give you a taste of how the ad game works in relation to your site.
Match Ads to Content
Some ad networks will do this for you. You tell them what your site is about and some demographic info and they provide you with ads. However, some may not do this and so you need to make sure the ads on your page make sense. If you are writing a blog about home remedies and your page's ads are about savings on video games, odds are they won't match your target market.
-Josh

Tags: ads, Blog Hints, seo, site