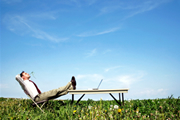 Hey everyone, Josh here from the Internet Beacon. We're a Search Engine Optimization(SEO) firm located in Finksburg, MD. What we do, SEO, is a form of Internet Marketing. Much like traditional advertising, SEO is all about getting your name out there. In this case, we're working to get your website in front of customers through search engines like Google and Yahoo. For more information, check out our SEO Answers page and our blog post on SEO.
This week, I'd like to talk about making your website SEO friendly.
Avoid the Photo Album
Unless, of course, you're hosting a photo album. What I mean here is that while graphics and picture can add a lot to your website, be careful when using them in place of text. Search engines like Google don't pick up what is inside the image. If it is an important piece of information for your site (i.e. a keyword, area of focus), try using text to represent it. This way you don't miss out on getting noticed.
Make Sense
I've talked about this before, but making sure your content makes sense goes a long way towards successful SEO. A part of our work involves making sure things like keyword density are where they should be. If instead of three solid paragraphs of information, say company history, you have ten two sentence groupings, it will be harder to work with your site. This could involve a large amount of proposed rewrites, which takes more time.
Know Your Site
Using keywords is an important part of SEO. However, you must use the right keywords. If your site is about selling your organic fruit directly to customers, then words like "banana" and "kiwi" will likely come up a lot. However, if you sell bulldog themed neckties, odds are these do not fit. This is important. Part of how your site is ranked is based on the text, so make sure it is relevant.
That's all for this week. Thanks for stopping by! We'll see you next week.
-Josh
Internet Beacon