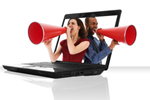 Hey everyone, Josh here from the Internet Beacon. We're a Search Engine Optimization (SEO) firm located in Finksburg, MD. What we do, SEO, is a form of Internet Marketing. Much like traditional advertising, SEO is all about getting your name out there. In this case, we're working to get your website in front of customers through search engines like Google and Yahoo. For more information, check out our SEO Answers page and our blog post on SEO. This week, I'd like to talk about creating a buzz in social networking.
Everybody Likes Free Stuff
This is universally true. Whether it's pens, hats, or coffee mugs, people love getting things for free. Check your desk, odds are you have a pen from a business you've visited recently. Promotions on the Internet are similar. You want to give customers something of yours for free so that they come back for more and, at the same time, tell their friends to visit your site. Twitter is great for this. It requires very little interaction on the part of the user, as they simply follow your company name (i.e. @IBeacon) and receive updates from you. Many businesses have used this to attract traffic. They give away free software, consultations, etc. Find what works for you and give it a shot.
People Want the Inside Scoop
Along the lines of giving away free stuff, many people want to know what is going on before others do. You should reward people for their interest in your company. For example, the website Penny Arcade has a mailing list that only sends out a message occasionally, but they always include coupon codes and links that are not publicly broadcast. This is a great way to treat loyal online customers. Try posting a coupon code with limited use on a company Facebook page and see what happens. Remember to plan for a large amount of people taking advantage of these savings. Don't say I didn't warn you!
Make Friends and Influence People
For sites like LinkedIn and Facebook, grouping options exist for people and… Read the rest