How to Measure the Value of A Link!
If you are familiar with the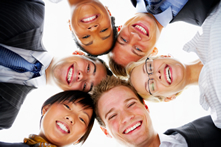 inner workings of a Search Engine then you probably know that search engines calculate the standing of your website using a number of different factors.  Link value analysis is among these factors, which is derived from the quantity and reputation of the other web pages that link to your website.  In addition to examining the popularity of connected pages, search engines analyze a website's primary characteristics such as trustworthiness, spam level (is your website useful), and perceptible authority (legitimacy).
In order to grow the popularity of your website, generate awareness, and increase traffic from search engines it is important to perform link building and analysis.  So how do you know the value of a link? Although search engines keep the majority of their ranking factors private, some of the clearer and more notable factors include the following.
Global Reach: If you want to have a link from a website to your website (a backlink), does that website have quality backlinks to other quality websites, in other words does that website have importance, reach, and scope.  Nothing is more impressive than having a well know and hard hitting website in your corner!
Community Merit: Equally important to websites with global reach are topic specific links that hold merit and commonality to the website on a topic level.  Web sites that are in the same business or cover similar topics and industries can provide a stable ranking foundation.
Anchor Text: Using anchor text is both important on inbound links to your website and navigational links within your website. A well built website can rank higher by using keywords in their anchor text. This anchor text should both describe the link and be a representation of the general content on the target page. It is additionally helpful to use keywords in the anchor text of links guiding traffic to your website.  The more onsite and offsite links to your