Updating a website refers to the addition or modification of content as well as the actual design and layout of the website. Stale websites can quickly discourage web visitors and are one of the major reasons behind high bounce rates. A bounce occurs when a visitor quickly views the page that they have landed on and then decides to leave the site rather than exploring its other web pages.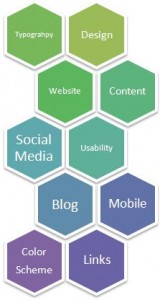 How often should you be updating your website:
So, how often should you be updating your website? There aren't any set expectations for how often a website should be updated. However it is suggested that you perform updates as frequently as possible in order to prevent your website from looking dated and losing your valuable web traffic. It is recommended that you try to update your website at least 1 to 2 times a month. These weekly or monthly updates should be designed for only adding or refreshing content unless the entire website's design is fatigued. As long as you develop a site that is both visually appealing and easily accessible then your primary updates should focus solely on your content.
When asked, most webmasters and search engine marketers agree that the more you update your content the more impact it will have on your Search Engine Optimization. Updating is especially helpful when it comes to blog content. Continuously adding new blog posts leads to more of your pages being indexed and draws in more visitors and potential customers.
Reasons for Updating Your Website:
Updating provides your visitors with a visually appealing user experience.
Updating your website establishes fresh and relevant content.
Updating helps your website get indexed more often.
Updating attracts new traffic.
Updating increases rank and influences other websites to link to your website.
Tips for Updating Your Website's Design:
Link your website to your blog.
Get rid of barriers like Flash, user registration, and obtrusive audio or video introductions.
Design a mobile counterpart for mobile visitors.
Update text and content layout.
Change your font and color scheme.
Add new images or backgrounds.
Check for broken links.
Manager your targeted keyword placement.
Perform SEO and use metrics to monitor your website's performance.
Tips for Updating Your Website's Content:
Perform a content audit – Locate old, low quality or underperforming content and remove it.
Update frequently (1-2 times a week is great, 1-2 times a month is ok)
Create an update schedule and try to deliver new content routinely.
Focus on quality over quantity.
Provide relevant and unique content.
Link your content to your social media accounts.
Link your content to other high authority web pages.
Use more than words- Try creating tools, and using infographics, pictures and videos.
Maintain a data bank for future content ideas.
Break down information to create a content series.
See what type of content is popular and stick with it.
Although it's not necessary to constantly update, determining how often should you be updating your website is important and the design of your website it is often the best place to start. Establishing a great design will help retain the attention of your visitors and provide them with a gateway to your content. Once you are satisfied with the design of your website then creating a streamlined process to update and keep your content fresh should be that much easier.
Thanks for reading
Dustin

Tags: content, Design, seo, update, website, website content, website design