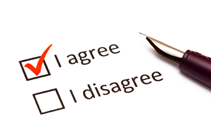 Hello there! Welcome to the Internet Beacon's awesome weblog. If you're here for SEO tips for small businesses, you've come to the right place.
Getting in touch with your user base is vital to any business looking to prosper. You want to make sure that you are meeting the needs and desires of your users, and that means getting their feedback. Now, there are several ways to get in touch with your users.
As with getting feedback from employees, polls are a valuable tool in gathering data. People are usually pretty open with polls, especially when the results are anonymous. They can feel free to express their opinions, and you should be glad to get them. This information will be valuable in making important choices in the future.
Giveaways are a great way to drive up traffic and boost interest in your site. People love free stuff, and so entering for a chance to win draws people in. You can start small, say with discounts off of work/services provided by your site and go up from there.
Forums are a powerful tool for creating community interaction. Giving people a place to engage in meaningful conversation about a topic that interests them is always a winner. By setting up a place to discuss your product or services with other users, people will be much more likely to get involved.
Example Online Polling Resources:
ITLpoll.com (open source), MicroPoll.com, QuestionPro.com, SurveyMonkey.com, Zoomerang.com
-Josh