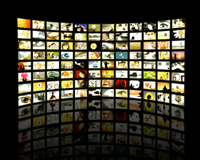 Hey everyone, Josh here from the Internet Beacon.
The Internet Beacon is a Search Engine Optimization (SEO) firm located in Maryland. What we do, SEO, is a form of Internet Marketing. Much like traditional advertising, SEO is all about getting your name out there. In this case, we're working to get your website in front of customers through search engines like Google and Yahoo. For more information, check out our SEO Answers page,  SEO Glossary, and our blog posts on SEO.
Internet Media
Getting to media online is a bit of a tricky matter. Sure, you can find it anywhere, but that isn't the problem. The problem is the legality of the source. Today, I'm going to give you some links to websites that offer access to your favorite television programs and music that are 100% legal and mostly free.
LaLa
LaLa is a music service that offers cloud (Internet only) storage of music from your favorite artists. They have a large online selection. You can stream the music to your computer, so that means no hard drive space taken up. All you need is a solid internet connection. You can purchase songs for about $0.10 each, provided you can't download them. MP3 versions costs a bit more, between $0.80 and $1.30. I've used this service for about two months now and am very pleased with it.
Hulu
Lots of people are getting to know about Hulu.  Hulu is similar to Lala in that you can stream media to your computer over an Internet connection. In this case, Hulu offers television programs and some movies. All of this is free. This may not be true in a year, but for now, just about every TV show from the major networks is on offer. You can use their service without making a free account, but if you choose to register, you can sign up for notifications about shows you like and when new episodes are available. I've used this for over 2 years now and am quite pleased with the service. I wholeheartedly recommend it
That's all for this week! Now you know a little more about where to get your favorite entertainment WITHIN the bounds of the law.
-Josh
Internet Beacon