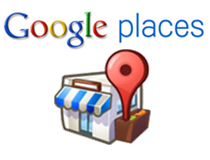 Hey, Josh here from the Internet Beacon. We are a Search Engine Optimization (SEO) firm located in Reisterstown, Maryland. What we do, SEO, is a subcategory of Internet Marketing. Similar to traditional advertising, SEO is all about getting your Brand out there. In this case, we´re working to get your website in front of customers through search engines like Google, Yahoo, and Bing. For more quick, useful information, check out our SEO Answers page, our SEO Glossary, and our blog posts on SEO.
There's no denying that Google is the most powerful search engine in the market right now. There are several other places you can go to find content on the Web, but at this moment, Google stands above them.  Because of this, Google is a great tool for promoting your business. One tool that they offer, specifically targeted at business owners, is Google Places.
Google Places allows you to create a home for your business within Google. This then gets linked to  Google Maps, as well as everywhere else in Google's kingdom. The benefit here is, I believe, that you are one step closer to Google when it comes time for searches. Local results, which are probably what you want if you are a small business, are almost always returned first via Google Maps in a Web search. By having a Google Places listing, you increase your chance of being seen dramatically.
Another great feature of Google Places is the ability to show your area of service. This is incredibly handy for those companies offering services and products to a very specific area. Restaurants who deliver are the first to come to mind. Customers can see your delivery area, so that cuts down on wasted calls and wasted time. In addition to this, Google Places supports QR codes. They look like square barcodes, of a sort. Customers can scan the tag with their smart phone and get data on your establishment.
Google Places is a great tool for small businesses looking to start a presence online or extend their current reach. In addition to your website, your Google Place can be another source of contact in a world constantly built on making connections. I recommend at least checking it out.
-Josh