Constructing a website for a business is only the first part of attracting your online customers. There are many factors that determine your position on the search engine results page, one of them being the quality and quantity of your inbound links. In order to increase traffic and gain a good web rank your website should have a significant amount of backlinks. These backlinks should connect with valuable, authoritative, and industry related websites. Gathering backlinks should be a top SEO priority because without them it can be extremely hard to move up in the search engine results or generate more website visibility.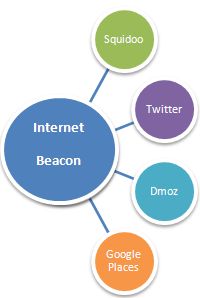 There are a number of ways to build backlinks to your webpages, one of which we mentioned in our previous blog entry, "Reciprocal Linking". Reciprocal or two way linking is when two websites agree to exchange links with each other. However linking doesn't always have to be mutual, this type of linking is called one way linking. The following list provides some popular sources and methods of obtaining one way links.
Create Superior Content and Resources:
In addition to creating a visually appealing and easy to use website you will also need to have high quality content or linkbait to draw the attention of visitors. This content is used to influence visitors to link back to your website by sharing your content. When other websites share your content on their website they will typically link back to the original source.
Create 101 articles that describe the basics of your industry related subject.
Create Top 10 or 100 lists.
Lists the top professionals from your industry.
Create an infographic that displays industry information in an intriguing and exciting way.
Create free helpful online tools or downloadable software programs.
Start a Blog:
A blog is a handy instrument when it comes to gaining momentum and popularity over the Internet. A Blog has many benefits for example it is an excellent way to reach existing clients and find new ones, it helps establish you as a professional, it builds a following for your website, and it helps gain your respect within your industry and blogging community.
Create A Blog.
Locate similar blogs and link to them, the blog that you link with may see that you're linking to them and provide a link back.
Read and comment on other blogs. Some blogs allow you to include a URL in your comment.
Portray yourself as an Industry expert:
Just having relevant content can draw in attention but it's important to maintain the visitors focus and respect.
Only provide relevant and useful content.
Make sure that your content is spelled correctly and is grammatically correct.
Understand the information that you are providing others
Introduce yourself to your audience by providing a short bio and picture of yourself.
Submit Your Content:
Submitting your content to multiple outlets will further spread your content and help you reach new viewers. The content submitted on these websites will help influence people to visit your website.
Submit your website to high quality and industry related directories.
Submit your blog to high quality blog directories.
Submit compelling articles to websites like EzineAtricles or other news websites.
Submit your created content to Social Sharing Sites like Digg and Stumble Upon.
Publish an RSS feed.
Be Active on Social Media and in Online communities:
Social media is a great resource that every business should be using. Social media or networking sites offer unlimited opportunities for businesses and helps develop a strong business presence. Companies that utilize social media outlets are often able to see an increase in brand recognition and web traffic. By providing a simple easy to use communications platform, social media assist companies with proactively monitoring and controlling their customer communication and perception.
Create accounts with popular social networking sites like Facebook, Twitter, LinkedIn, Digg, and Delicious. Use your social media profiles to link back to your website and spread your web content.
Interact and build a following on each social network.
Create a Squidoo lens that conveys your knowledge about an industry specific topic. Your Squidoo profile can also be linked to your website to gain link value.
Join a forum and link your forum profile to your website.
Make a Wikipedia page.
Ask or answer questions on sites like Yahoo! Answers and Google Groups. Provide links to relevant information found on your website.
Focus on Local Listings:
Local Business citations or mentions are a great way to produce more online visibility for a business and can also help search engines get to know your business better. Although local citations do not always provide a link, they continue to help grow the reputation of a business within the community and the search engines.
This list is only a small portion of the many methods to gain valuable backlinks for your website. Building your backlink profile with high quality links is crucial in order to produce more search engine visibility and gain the desired amount of incoming traffic to your website. Hope these suggestions help and good luck with your search for quality backlinks!
Thanks for reading
Dustin

Tags: backlinks, blog, content, inbound links, Links, search engines, Social Media