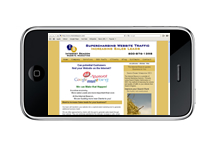 Hello there! Welcome to the Internet Beacon's awesome weblog. If you're here for SEO tips for small businesses, you've come to the right place.
Everyone will tell you that the mobile web is the future. Devices like iPhones and tablet PCs are giving people more and more access to the Internet on the go. However, these devices are not always equipped with what they need to view the Web as you do on a home PC. To this end, a lot of websites will make a mobile version of their site. Here are some questions to ask yourself about whether or not YOU need one.
Does your current layout rely on Flash or some other plug-in?
Flash is great for everything from online videos to creating a stylish menu. However, if you only use Flash for your site, then people with smartphones and some tablets won't be able to read it. This denies them access to your page, and denies you a chance at their business.
Do you deliver content that could be viewed on the go?
Blogs are a great example of this. Lots of us commute long distances to work. If you're on the train or in a carpool, you might want to check the news or read your favorite blogs while you wait. Blogs that are text and images can translate well into a mobile version and can offer you another outlet for your audience.
Do users need to interact with your site regularly?
If you provide a forum or interactive service, you might want to consider making a mobile version. For the most part, this isn't a huge consideration, but if your interactivity is dependent on Flash or Silverlight, you are preventing users from contributing when they can.
-Josh