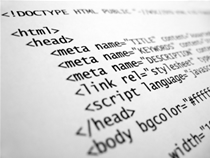 Hey, Josh here from the Internet Beacon.
So you want to build your own website, eh? It's hard work. There's a lot of long hours of study of both the coding language and the programs it takes to manipulate it. There's a reason professionals do this. However, if you need to throw together something quickly or just want to get your feet wet, here are a few program to try.
Apple iWeb
Bundled in for free with every Mac computer, the iLife suite is a series of software designed to let users start doing things with their computers right from the start. Far from shovelware, there products are quality tools. One of these programs is iWeb. iWeb is a great piece of software that takes away a lot of the need to know HTML, the coding language of websites. You can edit and create sites using templates, or start from scratch and make a site using a graphical user interface (GUI) rather than just text.
Adobe Dreamweaver
The de facto standard in web design, Dreamweaver is Adobe's solution for building webpages. Be warned, it is not for the faint of heart. While Apple's iWeb will give you a good tool to get a feel for how basic web design works, Dreamweaver is loaded with add-ons and tools for the professional web designer. If you are not accustomed to how this kind of software works, you may easily end up closing it as soon as you opened it.
Microsoft Expression Studio
The latest web design software from Microsoft, Expression Studio feels like a nice middle ground between iWeb and Dreamweaver. Microsoft claims that it is good for beginners as well as seasoned professionals. This is the only one I have not used personally, so I cannot comment in-depth on this software. All I can do is point you to their site and let you check it out for yourself.
-Josh
Internet Beacon
for More info on SEO, check out our SEO Answers page, our SEO Glossary, and our blog posts on SEO. SEM – Search Engine Marketing in Maryland

Tags: Adobe, Apple, Microsoft, Programming, web, Web design