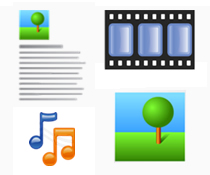 Hello there! Welcome to the Internet Beacon's awesome weblog. If you're here for SEO tips for small businesses, you've come to the right place.
Keeping people coming to your site is key in this industry. You don't want them to visit once and then forget about you. That doesn't do you any favors and it keeps your website from gaining influence on the web. Now, Search Engine Optimization (SEO), is something we here at the Internet Beacon specialize in. However, once you get people to your site, you need to give them a reason to keep coming back. Now, this where your content comes into play. The only thing is, don't let your content get stale. There are three major forms of communication used today in the blogosphere.
Audio – Listen Up
Today's Internet user is doing multiple things at once. They might be shopping while listening to the news. Or checking their bank account while playing their favorite music. The common thread here is that the audio provides the user with content, without demanding their absolute attention. Providing content like podcasts or even streaming sound clips can get your audience's interest, while still giving them freedom.
Video – Catch their Eye
Now, if you really want someone's attention, video is a great way to do it. Video allows for massive amounts of data to be exchanged. The combination of audible and visual means creates an opportunity to share tons of information with your users. Some great video ideas are reviews or answers to popular questions about your products/services.
Written Word – Worth "X" Amount of Pictures
Ah, the classic standby. Text was the first form of communication on the Web and is easiest to post. A solid blog or post can inform users of your products and services, all while representing it an easy to handle format. PC processing power doesn't come into play and text is easily managed on mobile devices as well.
-Josh

Tags: content, Presentation, Repeat Customers, seo, Video