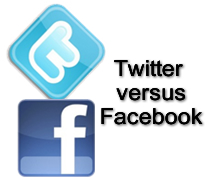 Hello there! Welcome to the Internet Beacon's awesome weblog. If you're here for SEO tips for small businesses, you've come to the right place.
When you think of social media, what comes to mind? Well, for most people, it's Twitter and Facebook. While the latter has been around for a few years more than the former, Twitter has rapidly made a name for itself. Now that Twitter has become such a huge part of social media, the question that arises is where does Twitter place in the ad game? Apparently, very high.
According to recent studies, Twitter ads are doing exceptionally better than Facebook ads. Specifically, the average amount of links clicked on Twitter is 19 per user whereas Facebook comes in at a measly 3. But why? A good guess is that Twitter is simply easier to use. It allows for quicker communication, despite that communication being limited to 140 characters. Another reason could be URL shrinkers. They make the links easier to post and quicker to access.
The take away here is that Twitter is currently outpacing Facebook for shared links. This means that if you want to get people clicking links to your site, Twitter is the place to be. Make your tweets fun, interesting, and relevant and you should have no problem getting people to notice them.
-Josh

Tags: Facebook, marketing, seo, Social Media, Twitter