For those of us who are new to blogging, this article will simply describe how having a blog will promote you and your business.   It will also serve up some useful tips for managing your blog properly.
Blogging has been around for sometime now but it was only recently that people had noticed the level of importance and beneficial properties that it offers.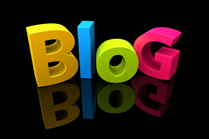 Blogs are basically online interactive journals that span any number of topics.   Some blogs are personal, detailing the actions of an individual and some are organization blogs which usually cover topics and events associated with that organization.   Disregarding whether it is used as a personal or professional outlet, a blog is a handy instrument that can be used to gain momentum and popularity over the Internet.   So a Blog can be a channel for you to express your ideas as well as drive up the success of your business!
So what are the Benefits Of Having A Blog?
Web Presence!
A blog is an excellent way to reach out to your existing clients and gain more along the way.
A quick way to supply news, promotions, ideas, or other information to your audience!
Offers an effective way to provide customer service and support to your customers!
A blog helps establish you as a professional.
Help you build a following and gain respect within your industry and blogging community!
Efficiently increases traffic to your site!   Search engines like, actually love blogs and the keywords found in your blog entries attract more customers to your site looking for information about those keywords.
Allows for you to obtain rapid feedback from blog participants.
Writing a blog also makes your company more approachable! People will have an easier time communicating with you because you are on a more personal level.
Are you convinced that you should… Read the rest