In our private lives, we all have our daily online routines. We check and send email, visit our favorite sites, read a few articles, and countless others.
Why should our Online Business Activity be any different?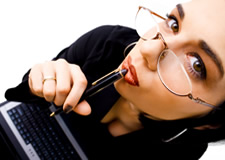 If you own a business there are certain basic recommendations for daily online activity that could help generate more clients.  The Internet is a powerful resource for any business and neglecting to utilize all that it offers is silly.  Every business can be conducting some kind of daily activity online.  Not sure how to fully utilize the Internet for your business? The following are minimal suggestions for your company's daily Internet practices.
Visit Some Social Networking Websites:

Submit some postings to multiple sites and gain a following in the online community.  Use this online activity to share some knowledge and build a reputation for your business.  By improving the brand of your business on Facebook, you're able to market your company and have the opportunity to acquire profitable insights from others. It's free, except for your time, so take advantage of the free advertising that websites like Facebook and Twitter offer.  In addition using these social networking sites gives you another medium to allow you to be more accessible to your customers and gain valuable feedback. See more information about how Twitter Can Benefit Your Business.

Write a Blog:

Establishing a blog for your business is a great way to branch out and grow your web presence.  A blog is another way to obtain customer interaction as well as communicating important messages to your clients.  Additionally, mention your blog articles on Social Media websites like Twitter and Facebook and have more potential clients visit your website. For more on how blogs can help a business check out Having a Blog Helps!

Check The Analytics Of Your Website:

It is important to understand how visitors use your website.  Before you can successfully solve any problems and market your site. You should have a good understanding of what's