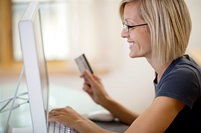 Hey everyone, Josh here from the Internet Beacon. The Internet Beacon is a Search Engine Optimization (SEO) firm located in Maryland. What we do, SEO, is a form of Internet Marketing. Much like traditional advertising, SEO is all about getting your name out there. In this case, we're working to get your website in front of customers through search engines like Google and Yahoo. For more information, check out our SEO Answers page, SEO Glossary, and our blog posts on SEO. Welcome back! I promised five more ways to make your business grow using the Internet last week and here we are. Let's jump right in, shall we?
Stay Plugged Into the News
These days it isn't enough to read the paper or watch your local newscaster every night if you want to stay up to date on current events. The fact of the matter is that everything that happens these days can be reported instantly via Twitter, Digg.com. etc. Make sure you stay up to date on what is happening in your field. If not, you may be left holding the bag later when one of your business functions goes contrary to current standards/public demand.
Open Up Your Payment Options
Remember when everyone paid cash for everything? How about when debit cards were just coming on the scene? Over time, people's methods for handing their wealth change and evolve. Because of this, it is necessary to consider how you receive payments. I recommend checking out alternative payment methods, like PayPal for handling some of your financial transactions with customers. This is especially important if you offer services that are a "one-time fee" or a good that can be purchased online.
Offer Live Chat with Customers
One thing that is certain in today's Information Age is that communication is king. Because of this, a great idea for your business may be offering an online chat function to prospective clients. This could be as simple as using AOL Instant Messenger or as complicated as Adobe Connect Pro. The point is to establish a tangible online… Read the rest