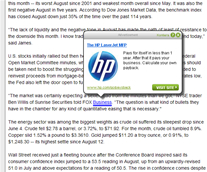 Hello and welcome to the Internet Beacon! We're an SEO firm in Maryland.
There are a lot of ways to make advertising work for your website. You can go with banner ads, simple links to sponsors, or a lot of other options. One of the most controversial forms of advertising on webpages is the in-text ad method.
In-Text ads are essentially links generated based on keywords that appear in your page. They are typically double-underlined and when a user rolls their mouse over them, a tiny pop-up appears with an advertisement relating to that word.
Users are divided on how they feel about this form of advertising. While it does not always seem as intrusive as banner ads, with their occasional flashing and bright colors, they can also be frustrating when simply trying to read an article. Imagine trying to read a book and every time you come across the word "ship", it shows a little picture of a ship and lists places to buy them. It would drive you mad.
No one expects websites to be used for free. Whether you use a membership format or support our site through ads, you have to pay the bills somehow. However, there are ways to balance your need for income with your need to keep readers coming back.
-Josh
Internet Beacon
for More info on SEO, check out our SEO Answers page, our SEO Glossary, and our blog posts on SEO. SEO in MD, improve search engine results