For bloggers there is nothing better than seeing readers engaged and contributing their input to the discussion.  We often write blogs to pass on information to visitors and it is often challenging to see that the topic has sparked minimal reactions or comments from the blog readers.  Unless you're an extremely popular blogger we look for comments to quantify how many people are receiving our information and find it helpful.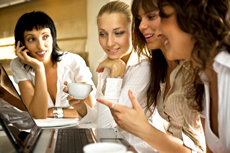 Although people may be utilizing the resource that is provided an author won't exactly know if it was useful unless their readers tell them or become active in the discussion or a Tweet.  For bloggers a main goal is to not only to share the information but also to connect with readers by assisting people across the web.  Whether it is sharing recent news, instructions, support, or information they found interesting, bloggers may see an increase in visitors using analytics but won't really know how the information came across without user feedback.
There are a number of factors that readers often take into account when deciding if they are going to comment on the subject or join the discussion.  Some of these factors include the following:
Blog Page Rank:
It may not be the most important factor because a link is a link regardless of page rank and readers will see it as a method to point or direct traffic to their own website.  However keep in mind that most users focus on blogs with high page ranks because they are trying to gain more link equity through their comment links.
Blog Topic:
Even with a low page rank is you choose the right topic it will still be able to engage the reader and encourage comments.  A good topic should be current, informative, and possibly controversial.
Author and Writing Style:
Every author has their own style or type of language they use when communicating.  Readers want to be able to connect with and understand an author when reading their work.  Keep in mind that although it is important to have your own voice when writing is it equally important to make sure your audience understands your writing style and the points you are trying to convey to them.
Credibility/Authority
Build a reputation for yourself within the blogging community.  It is ok to write about a topic that you might not be an expert on as long as you do the necessary research and make sure that you're not providing inaccurate information to the public.
Comments of Other Users:
The comments of other users are also an important determining factor.  Readers who are on the fence about commenting will often look and what others are saying and use that to make a decision on whether to comment or not.  The comments of other readers play a larger role in the next sections of suggestions where we discuss managing your blog comments with the features provided in WordPress.
In addition to having interesting content that ignites a debate and well written paragraphs a blogger can further engage readers by asking open questions to entice readers to contribute their opinions.  Monitoring and managing your blog or comments from your readers is extremely important.  A good way to acquire more traffic and comments to your blog is to utilize some of the many features that WordPress offers.  The following is a list of some suggestions and plug-ins to increase the effectiveness of your blog.
Create a blogger profile to let people know about you.
Ask for the readers questions and ask for their opinions within your article.
Thank and reply to comments that readers submit.
Monitor all incoming comments.
Set up spam detector (WordPress uses Akismet).
Implement a comment policy.
Set comment submission deadlines for older blogs (Requires more maintenance to sort through comments).
Set limits of how many comments can be submitted.
Make a list of top comment contributors.
Display recent comments.
Send notification emails when a comment is submitted or approved.
Comment subscriptions let people know when a reply has been posted to their comment.
Establish threaded discussion.
Put in place a ratings system.
DoFollow comment links encourage readers to post comments because they can gain link juice to their website.
Display avatars or icons for users who comment.
Design and style your blog comment area so readers can recognize replies from comments and readers from authors.
Although achieving more comments using these suggestions is not guaranteed, it will certainly show your readers that you take the time and put in the effort to produce an efficient and well formed blog.  In addition try to focus on building a following of readers that contribute to the conversation as opposed to only looking for a statistical number of site visitors.  Statistics may be important when considering website traffic but for a blogger it should be more important that their ideas and contributions are helping people and not being used for any other purpose.
Showing visitors that you take pride in your blog will most likely encourage them to take part in it and along with great topics your blog could eventually make a name for itself.  What do you think is more important, getting more readers or stimulating conversation from a few dedicated visitors?
Please feel free to contribute any suggestions that you feel help increase the effectiveness of a blog!
Thanks for reading!
Dustin
See more SEO tips for small businesses.

Tags: author, blog, blog comments, blogger, blogs, comment, reader, Wordpress