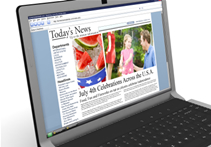 Hey, Josh here from the Internet Beacon. We are a Search Engine Optimization (SEO) firm located in Reisterstown, Maryland. What we do, SEO, is a subcategory of Internet Marketing. Similar to traditional advertising, SEO is all about getting your Brand out there. In this case, we´re working to get your website in front of customers through search engines like Google, Yahoo, and Bing. For more quick, useful information, check out our SEO Answers page, our SEO Glossary, and our blog posts on SEO.
How do the big search engines see your websites content?
Google, and most search engines, use robots to sort through your page for content. These are not actual robots, but computer programs with a single purpose, to crawl your website. Crawling means taking the time to read all the code that makes up your page. This is largely HTML, but other code like Flash is partially recognized. What is important here is tight design to aid the robots in reading your site. You can also assist them via scripting, but that is something best saved for professionals like your SEO specialist.
Is Flash a factor?
Yes. Google can read a little bit of Flash, but HTML and other standard code is where they get most of their data. Be careful when using Flash, as overuse will result in difficulties with PageRank and other methods of promotion. The same goes with splash pages, or intro pages, for your website. That may have been cool in the 1990s, but today people want to get to your content as soon as possible. There's no need to make a separate page to welcome them.
How do images come into play?
Without ALT tags for your images search engines won't know what to do with them. As clever as Google's robots are, they aren't discerning all the contents of your pictures. The "ALT" tag allows for users to put captions in the code for their images. This way, if there are visitors to the site who are visually impaired, they will still know what is going on on your page.
-Josh

Tags: content, Google, HTML, Internet Marketing, Popularity, Robots, seo