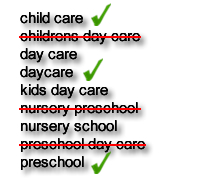 Hello there! Welcome to the Internet Beacon's awesome weblog. If you're here for SEO tips for small businesses, you've come to the right place. If you've used any Microsoft backed site in the past two years or so, you've no doubt had to install their Silverlight plug-in.
Your business has a slogan, right? Perhaps it's in your company's name. Why do you do that? So you can help tell people about your business before they even enter your office. You let the client know that you're "Best Local Movers" by making that your company name. Well, SEO works off of this. You want clients to find you based on words that describe your business. Qualitative statements are nice, but accurate objective words are better.
When choosing keywords to describe your business, think about your prospective clients. Are they looking for "cleaners" or are they looking for "Reisterstown Cleaners". Be descriptive and informative. Make sure you use words that tell people about your business. Geographic locations are good. Another consideration should be specific niche markets. Make sure that instead of "Cleaners" you use "Carpet Cleaners".
Remember, people find you on the Internet based on what YOU tell them. They do the search, but you are the ones to tell them what words match you. Take time and consider how you want to be found. Last tip: don't use too much marketing speak. You don't want to come across cheesy or, worse, false.
-Josh