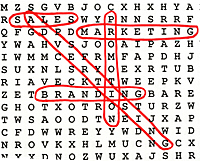 Hey, Josh here from the Internet Beacon. We are a Search Engine Optimization (SEO) firm located in Maryland. What we do, SEO, is a subcategory of Internet Marketing. Similar to traditional advertising, SEO is all about getting your Brand out there. In this case, we're working to get your website in front of customers through search engines like Google, Yahoo, and Bing. For more quick, useful information, check out our SEO Answers page, our SEO Glossary, and our blog posts on SEO.
As we've discussed in previous posts, keywords are a big part of SEO. They help to identify your site to search engines, and give them something to associate with the web address. For this reason, they are one of the building blocks of SEO. Here are some tips for choosing the keywords you want to use.
Be Accurate
Accuracy is important here. If you are a florist in Baltimore, pick keywords that match your business. Keywords like "flowers Baltimore", "Baltimore Florist", etc will be perfect here. They accurately describe what you do and where you do it. If you chose something like "local business Baltimore", then you will most likely see negative results. That's because, while you ARE a local business in Baltimore, so is EVERYONE ELSE in Baltimore. You've cast too wide a net, and therefore will get lost among the other companies.
Be Specific, but not TOO Specific
Specificity is your friend when choosing keywords. However, if you over-specify, you will likely get lost I the crowd. A great way to think about this is trying to imagine what your potential customers will search for online. If you a store that specializes in comic books from the 1930s and 1940s, then something specific like "Golden Age comic books" would work well for you since it is a specific niche you are filling. However, that same keyword will not bring in people looking for regular comics. As you can see, this part is tricky.
When choosing keywords, make sure you talk to your SEO professional about how you want to describe your business online. They can often make good suggestions, as they've been in the Internet Marketing game for a while, but only you know how you want clients to see you. That's it for this week! Come back next time for more SEO tips.
-Josh
Internet Beacon
SEO Maryland