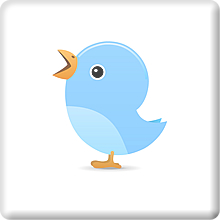 Hey everyone, Josh here from the Internet Beacon. The Internet Beacon is a Search Engine Optimization (SEO) firm located in Maryland. What we do, SEO, is a form of Internet Marketing. Much like traditional advertising, SEO is all about getting your name out there. In this case, we're working to get your website in front of customers through search engines like Google and Yahoo. For more information, check out our SEO Answers page, SEO Glossary, and our blog posts on SEO.
Twitter is a very popular social media platform right now. For those who don't know, Twitter is a micro-blogging service, freely available, that allows users to upload 140 character lines of text for the world to see. Now that the world can see it, does it mean people are actually reading them? Here are some tips for getting more Twitter followers.
Dive In
Find other popular Twitter users and follow them. Then, retweet (repost another user's tweets while giving them credit) for others to see. Also, make sure to reply to other user's tweets. This is similar to leaving a comment on blogs. You may see other people follow you as a result.
Be A Trendsetter
Trending topics are a way for users to have conversations with the world about specific ideas. Using a # sign, called a hashtag, followed by a word or phrase, marks your tweet with a topic. For example, if you want to talk about dog training tips, you might tweet "Getting my dog to jump through hoops is really hard. #dogtrainingtips" Then, people who use the dogtrainingtips hashtag will see your tweet.
Look Around You
Putting your location into Twitter will make it possible for other people in your area to find you. Also, with the advent of GPS in phones and Twitter on cell phones, you can search for Twitter users within a specific radius. This is great if you want to get involved in local affairs, but be careful; this will be a search with every local user. Specifying whom you want to track will be a bit more difficult.
That's all for this week. We'll see you back next week.
-Josh
Internet Beacon
SEO Baltimore