A lead capture form is often the highlight of a landing page. These forms are the most important elements to driving customer contact and capturing new leads. The lead capture form is an absolute necessity and can often make or break your landing page. Without a lead capture form the landing page remains just another hurdle between you and your prospective clients. If you don't already have a lead form posted on your landing page then we advise that you make creating one a top priority.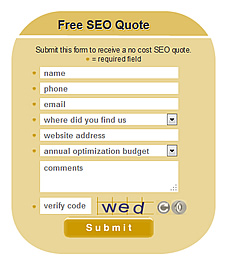 The following are some of the critical elements that every lead capture form should have along with some extra tips for improving your landing page:
Basic Landing Page Tips:
The real measure of a successful website isn't the number of visitors but rather the number of conversions. A conversion is when a visitor comes to your site and performs a certain task. These desired actions could be purchasing a product, getting a quote, signing up for a newsletter, or any other specified goal. Upon landing on a page, customers consider if they are in the right place, the trust level they have for the site, the amount of time the process will take, and the potential benefit from the conversion. The landing page should address these concerns and then proceed to display your introduction copy, any media content, product information, customer testimonials, and lead capture forms.
Create a headline or tag line that really captures the interest of your visitors. A strong headline should urge potential customers to stay longer, learn more, and influence them to provide their contact information.
Have a strong call to action that stands out and instructs your visitors to perform your requested action. A good call to action is found above the fold and will help urge your visitors to take immediate action.
Makes sure that your landing page is visually appealing and easy to understand. Use visual cues to