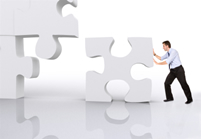 Hey everyone, Josh here from the Internet Beacon. The Internet Beacon is a Search Engine Optimization (SEO) firm located in Maryland. What we do, SEO, is a form of Internet Marketing. Much like traditional advertising, SEO is all about getting your name out there. In this case, we're working to get your website in front of customers through search engines like Google and Yahoo. For more information, check out our SEO Answers page, SEO Glossary, and our blog posts on SEO. This week I'd like to give you five tips for growing your business using the Internet.
Perception is Everything
This is true in all walks of life, but especially on the Internet. People don't get to see the person running the website. All they see is the site itself. If it looks like it was made using a basic text editor by someone's cousin, that is the impression they get. They don't notice the actual business as much. For this reason, it is important to have your website designed by a professional. My advice is to start small, and then branch out as necessary. Not every site needs a flashy intro, but they all need to look professional.
Preserve and Optimize your Advertising Budget
Getting your name out there can be challenging on the World Wide Web. It may seem like you are up against anyone and everyone. In some sense, you are. You are up against them for people's time. So make sure you are taking the right steps to ensure that potential customers see your website before others. To this end, make sure a portion of your advertising budget goes towards Internet Marketing. This is a more and more important part of today's economy, and you don't want to miss it.
Build Relationships
While it's true that your goal is to succeed as a business, few, if any, people can do it alone. This is why it is important to get to know the competition. They may not be as bad as you think. Many might be just like you, trying to get a leg up in an increasingly more competitive market. You may find allies here instead of enemies. Try joining an online association related to your field. This may help more than you might expect.
Assemble a Toolkit
In the same way that you need to gather your tools together when building a house, you need to have tools set aside for your business. On the Internet, this means tools that will get you plugged into what's happening online. Three great, free, tools are Facebook, Twitter, and Digg. Facebook, as most of you know, is a social networking site allowing people of all ages to connect with each other. Make a page for your business here to spread awareness of it. Twitter is a micro-blogging service. It's great for short posts and linking to others' posts. Make an account and join the online discussion. Digg is a link sharing website. Share articles that interest you and others and comment on pertinent works. Intelligent contribution goes a long way.
Deliver Content
Make sure your website is more than just an online business card. That may have worked in the past, but now people expect more. Try serving up interesting content to keep them coming back. This could be a blog, quick tips, or any one of a million other options. This will be specific to your business.
Well, that's all for this week. Come back next week for the second half of our series on building your business using the Internet.
-Josh
Internet Beacon

Tags: business, internet, Internet Marketing, marketing, seo, website