Hey everyone! It's Josh from the Internet Beacon, again. This week I want to talk about basic browser maintenance. There are a lot of programs out there that claim they can solve all your Internet woes, but in reality, many of them (usually the cheap ones or the ones advertised on shadier websites) really just automate things you can do on your own. And before you panic, this is some really simple stuff!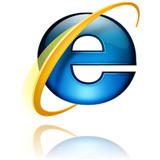 A great way to get your internet browser of choice to speed up a little is to clear out some various files that it keeps on hand. Things like Cookies (which you cannot eat) and Cache are two things that really tend to build up over time. They are just files that accumulate over time. They aren't inherently dangerous or anything, but can clutter up your browser quickly. A quick warning: After doing this, sites that save your login information, for example Facebook or Hotmail, will ask you to log in again. Make sure you know your passwords before you do this! Otherwise, you have to go through the whole "lost password" thing; and no one wants to do that.
According to statistics, most people use Internet Explorer. And so, we'll go through how to clear these items in the latest version, Internet Explorer 8. First, open Internet Explorer. Next, click on "Tools" located on the bar at the top of the window and select "Internet Options". Once in "Internet Options", on the "General" tab, you should see a segment called "Browsing History". Underneath there is a button labeled Delete. Click it. Don't worry; you haven't gotten rid of anything yet.
Now that you have the Delete window open, you have a lot of options and checkboxes. There may be several options checked already. The only ones you want to check are "Temporary Internet Files" and "Cookies".  A little window will pop up letting you know Windows' progress completing your task. If you've never done this before, it may take a while. It should close automatically… Read the rest