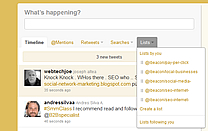 Hello there! Welcome to the Internet Beacon's awesome weblog. If you're here for SEO tips for small businesses, you've come to the right place
<>Twitter is a powerful tool of social media interaction. It allows you to connect with people all over the world in tiny little blurbs. Many companies are utilizing its power to help spread their influence and awareness of their products and services. As an Internet Marketing company, this is part of our focus. Today, we'd like to go over one of Twitter's many interesting facets, Groups.
<>
<>Similar to lists of friends in your address book or on Facebook, Groups on Twitter allow you to create lists of people online. This can be used for many reasons, from simple organization to ease the process of following others. The latter is why we're discussing this.
<>
<>Groups on Twitter can be made public. This means that if all of your employees have Twitter accounts, they can be pooled together into "Company X's Hardworking Employees" and posted online. Then if someone is a fan of your company or organization, they can simply follow the list, instead of adding each person individually. This also makes for greater recognition, when people notice their friends following your list.
<>
<>All in all, Twitter groups are a great addition to the service. The savvy user will take advantage of this free tool and use it to their advantage
<>
<>-Josh