Slightly off topic, Facebook's latest business venture has them pairing up with Warner Bros. to bring Facebook users a new and easy way to rent movies.  Facebook users will now be able to enjoy movies directly from the Facebook social media platform. The agreement states that customers will have the option to rent a movie for 48 hours using 30 Facebook credits.  In order to do this a user would need to navigate to the selected movie page and click watch.  Facebook and Warner Bros. rolled out this plan starting with the film "The Dark Knight". Currently "The Dark Knight" is the only movie available but the contract will soon expand to the other Warner Bros. films.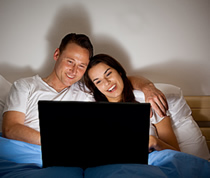 Renting movies from Facebook is a great concept from a consumer point of view.  This agreement makes it even easier for customers already using Facebook to rent movies and because Facebook already has an enormous following it also guarantees customers for Warner Bros. The way we rent movies has been progressing for years and although they are not the first company to offer online streaming video they too now see the financial opportunity that it provides.
Should businesses like Netflix and Redbox be concerned about competing with Facebook? Although this development may increase competition among the movie rental companies I think that it is safe to say that Facebook is still far from dominating this type of business.  Facebook may provide viewers with a new way to experience their favorite films but there are still some downsides to this option.  For example, other companies can offer viewers the option of multiple viewing platforms like televisions, gaming consoles, and computers whereas Facebook limits a customer's option to view it from a computer only (though smart phones are computers).  Currently being limited to Warner Bros. films also ensures that Netflix and Redbox will more than likely remain on top of this industry.
Since this is only the beginning and a test run for Facebook's video renting service it doesn't pose an immediate threat to the other companies just yet. However due to Facebook's massive presence in our culture things could quickly change and make it a staple in the way we rent movies. In the future other film companies could realize the value in this concept and quickly follow Warner Bros. lead. Furthermore if Facebook does eventually decide to offer movies on different viewing platforms Netflix and Redbox definitely have reason to be concerned. It will certainly be interesting to see which direction they decide to take this business venture even though at its core Facebook will always be first and foremost a social networking site.
Thanks for reading!
Dustin
Internet Beacon
Website Marketing
See more SEO tips for small businesses.

Tags: Facebook, movies, netflix, warner bros